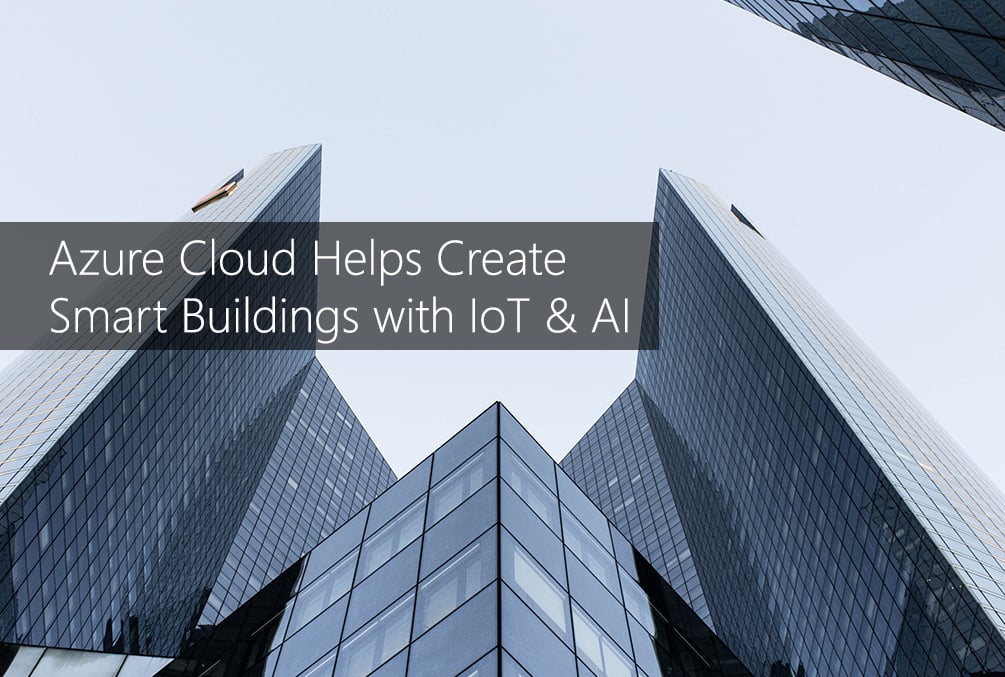 Microsoft, with its Azure IoT vision for spatial intelligence is offering smart building solutions for a variety of companies in the field of construction and design. Every building can be made smart including hospitals, stadiums, commercial buildings and office spaces. The internet of things (IoT), and artificial intelligence (AI) combined has great potential to offer smart building solutions, some of which are listed below:
How Azure is Evolving Construction
On construction sites, IoT plays an invaluable role in offering tools for prioritizing employee safety. Microsoft provides variety of services that collects real time data about the site that can be visualized and analyzed in real time by the company professionals. For e.g. PCL Construction is leading the digital transformation in the construction industry with its Job Site Insights application. This smart application sources its data from variety of IoT sensors in the field. The data then creates a model in the physical world using Azure Digital Twins. This model then interacts with tools like Azure Maps, Microsoft Office 365, and PowerBI to provide smart solutions focusing on safety, efficiency, quality and productivity.
Azure's IoT is Assisting Building Operations
Leaders in building operations say that their prime business goal is to reduce their operating cost while boosting productivity. ICONICS provides automated software solutions by using Azure IoT to visualize and analyze data into real time information. This real time data can be used to alert field technicians using Dynamics 365 Field Service if there is problem (burst pipe, clogged ducts etc.) that need to be fixed.
MacDonald-Miller, a facilities management company is using Azure IoT and Dynamics 365 Field Service to provide services to its customers in an extremely efficient way.
Infosys, with its SCALE program uses Microsoft services to help design, implement, and manage smart buildings. The main focus is to improve energy efficiency, security, maintenance, and significantly reduce operational costs.
Space Utilization And Occupant Experience
All leading architectural and design firms are moving towards creating energy efficient and smart layouts for their commercial and office spaces. Steelcase, a global architecture and technology products firm is doing just that with this Workplace Advisor app. The app uses IoT data that integrates with Azure Digital twins to fulfill their clients' vision to create a smart and effective workplace design.
Occupants desire a more open and engaging workplace with minimal distractions and higher productivity. CBRE, a world leader in commercial real estate is providing its building owners and occupiers many innovative and high-tech experiences. Their product CBRE Host is powered by Microsoft Azure Twins and Microsoft Graph. This workforce empowerment platform offers many conveniences like timely maintenance, room scheduling, service requests and many more enriching experiences.
The benefits of IoT and AI is transforming the way we live, work and interact with each other. Azure IoT is leading the way in helping us design smart and extremely efficient work and living spaces. Leaders in construction industry are embracing this change with enthusiasm and coming up with highly efficient design ideas for their projects focusing on safety, quality and productivity.
If you are in the field of construction and want to consult with a leading professional for your software needs, the experts at Technology Management Concepts are here to help. Team up with a certified Microsoft Gold Partner to make your migration to the cloud seamless. For all your Azure cloud computing challenges please contact us.
Don't forget to follow us on Facebook, LinkedIn, and Twitter. Subscribe to our YouTube channel for insightful tutorials and demos.